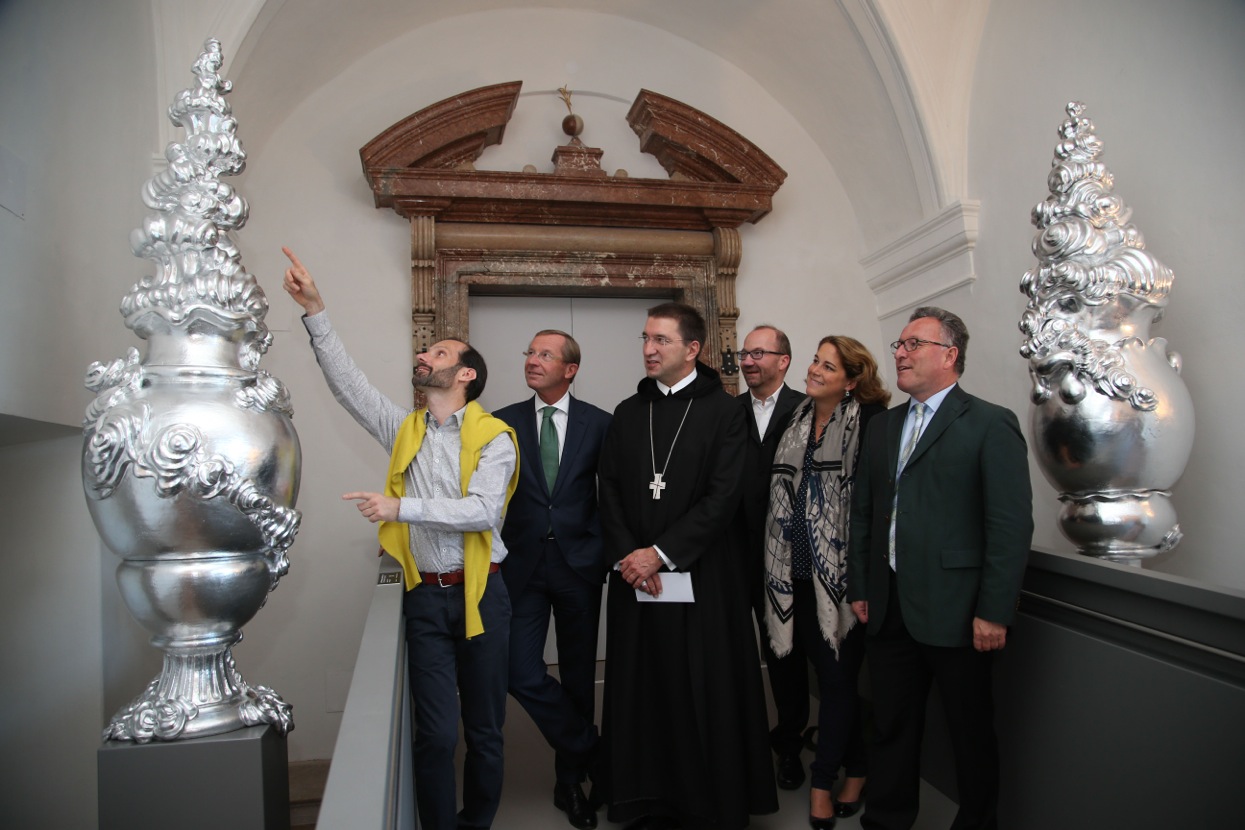 Since early October, an intervention by the Austrian artist Gerold Tusch has decorated the mighty portal leading from the Long Gallery to the Museum of St. Peter's Abbey. Two oversized vases emitting silver clouds flank the passage, accompanying visitors into St. Peter's treasure cabinet – an impressive dialogue between yesterday and today.
Gerold Tusch, born in Villach in 1969, studied painting, handicrafts and ceramics at the Mozarteum University and ceramics at the Gerrit Rietveld Academy in Amsterdam. Since 1994 Gerold Tusch has lived and worked in Salzburg.
In his objects and installations, the artist uses mostly ceramic materials to examine the nature of decoration, of beautiful surfaces and of physicality. "It is one of my artistic 'methods' to extract ornamental or decorative elements from their context and to examine the effect of their form and content in isolation, or to use these in my own designs," says Gerold Tusch.
In the work commissioned by the DomQuartier, he strove to assimilate the Baroque "silver cloud" – inspired by the cloud formations often used in Baroque altar painting to fill in empty space. Gerold Tusch turns them into the main focus of attention. The clouds also "correlate in content with the leitmotif of the DomQuartier. They can be read symbolically as the link between heaven and earth – or spirituality and earthbound existence." He achieves this effect through his choice of materials too; the vases may be ceramic (earthenware) objects, but have been "silver-plated" with composition aluminium, creating an apparently precious surface.
Gerold Tusch's installation was financed in its entirety through private funds donated by the International Salzburg Association (ISA) and can be viewed as part of regular visits to the DomQuartier.
Teilen: