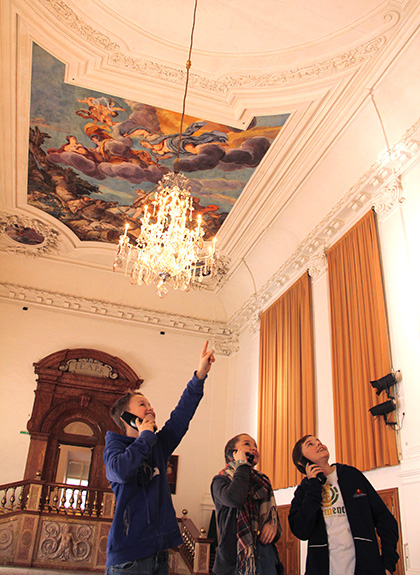 With a specially developed audio guide for kids, by kids, our young guests are warmly welcome to explore the DomQuartier and its architecture on their own.
This diverse programme presents not only the architectural highlights in the Salzburg Residenz Palace and Salzburg Cathedral, but also entertaining stories, history, sound images and rapped texts about the life of the prince archbishops. Our audio guide for kids is available at the cashier's desk for free in German, English and Italian and the listening stations in the complex are marked with numbers. You can also listen to the content on your mobile phone before your visit.
Text and speakers: Pupils of the Neuen Mittelschule des Diakonievereins in Salzburg, the Herz Jesu Missionare private school and the International Class of the PH-Praxisvolksschule Salzburg
Concept, workshops, editing: ARTgenossen – a club which offers education programmes and workshops, with Dr. Doris Oberholzer and Petra Schlagbauer
Audio direction and production: Mag. Elisabeth Leberbauer
---
Audio guide online as a progressive web app (PWA)
You can also use the audio guide on your own smartphone. No pre-installation is necessary. All you need is a smartphone with a current web browser and an internet connection. Free WiFi is available in the museum for this purpose. In consideration of other visitors to the museum, we ask you to use headphones or to reduce the volume to the bare minimum.