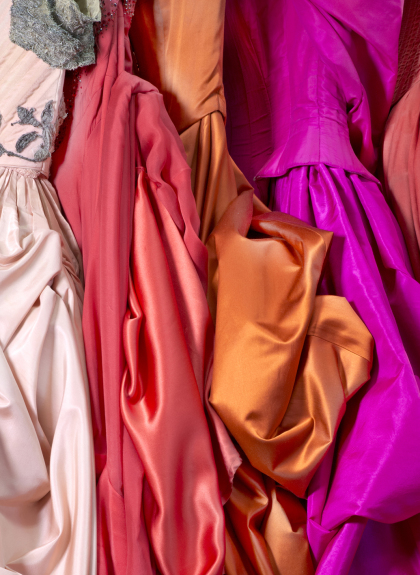 The Paramour, the lover's role in the drama "Jedermann" by Hugo von Hofmannsthal (1874–1929), has been played by many renowned actresses since the work's premiere in 1911. Ever since the founding of the Salzburg Festival in 1920 by Max Reinhardt (1873–1943), famous directors have been responsible for the tragedy of the "life and death of the rich man" outside Salzburg's Cathedral.
Jedermann's Paramour embodies the flowering of life itself; she is seduction personified and a vivacious counterpart for the man dying on Cathedral Square.
Year after year, no costume shown at the Salzburg Festival has garnered so much public curiosity, guessing and attention as the Paramour's dress. – These sumptuous gowns are created in the Festival's workshops and form part of the Festival's history.
The exhibition in the splendid rooms of the newly adapted Northern Oratory of the Salzburg Cathedral, part of the DomQuartier, presents a special selection of gowns and accessories for the Paramour from various productions of the Salzburg Festival. These are complemented by sketches, notes and photographs from the Salzburg Festival Archives. A film featuring excerpts from relevant stage scenes completes the show.
The exhibit "The Paramour's Clothes" is presented as a cooperation between the Residenzgalerie and the Salzburg Festival.
Concept: Dr. Erik Oehring
Curators: Dr. Erika Oehring, Dorothea Nicolai (Director of Costumes and Make-Up, Salzburg Festival)
Illustration: All on one clothes-rack, © Salzburger Festspiele/Dorothea Nicolai
www.salzburgerfestspiele.at