State rooms, North Oratory, Long Gallery and St Peter's Museum (music room)
A musical tour of discovery in the original venues: With "Music everywhere!" the DomQuartier focuses on Salzburg's great musical tradition, which is inseparably bound up with the history and the various rooms in the Residenz and the Cathedral precinct, as well as with Heinrich Ignaz Franz Biber, Georg Muffat, Antonio Caldara, Leopold and Wolfgang Amadeus Mozart and Michael Haydn – long before the inauguration of the Salzburg Festival.
Glorious times, illustrious guests, opulent banquets and wonderful music – even then, during the reign of the prince-archbishops, Salzburg presented an international star-studded cast and major premières.
---
To start off, listen to Claudio Monteverdi's Toccata (L'Orfeo"):
The DomQuartier explores this illustrious musical history, starting from the reign of Prince-Archbishop Wolf Dietrich von Raitenau who, with his new regulations for the musicians at the court, created the basis of a long-flourishing music scene in the historic venues. This exceptional situation affords a vivid impression of the frequent festivities once held here.
---
The designers of the exhibition – Virgil Widrich of checkpointmedia and Hans Kudlich of Studio Kudlich – devised selective, modern architectural interventions to bring alive for visitors' imagination the historical scenes of festivities and music-making. It is the field of tension generated by the commentaries recreating these scenes that renders the authenticity of these historical venues all the more immediate.
Virtual tour through the exhibition in the State Rooms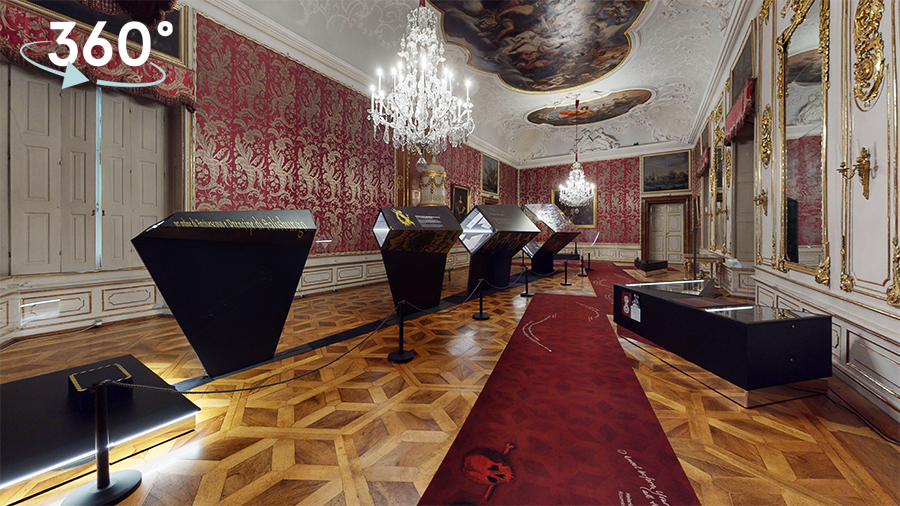 Impressions from "Everywhere Music!
Musical Program
Besides audio and video stations in the exhibition rooms, in order for the motto "Music everywhere!" to resonate throughout the Residenz, there is a live-music track co-ordinated with the themes and content of the exhibition.
The exhibition catalogue will be available (price € 14,90) in the Residenzgalerie shop in the DomQuartier and online.
Dates
All dates listed here are offered in German. For a tour in English, please contact the visitor service in the DomQuartier below:
+43 662 80 42 21 09 or office@domquartier.at .
Guided tour »Überall Musik!« in German
Wednesday, 15.00 Uhr
29. Mai (Salzburger Museumswochenende), 18. August, 22. September, 27. Oktober, 17. November, 8. Dezember, 29. December 2021
Saturday, 10.30 Uhr
9. Juni, 26. June, 24. July, 7. August, 4. September, 9. October, 6. November, 18. December 2021
Meeting point: Carabinierisaal
Musical programme »Music everywhere!«
Wednesday, 7 pm
8. September, 13. October, 1. December, 22. December 2021
Tickets: Salzburg-Ticket-Service, Tel. +43 662 840 310, www.salzburgticket.com
Cooperation between DomQuartier Salzburg and Johann Michael Haydn Society Salzburg.
Concept and artistic direction: Stiftskapellmeister Peter Peinstingl
Further cooperation partners:
Universität Mozarteum Salzburg, Musikum Salzburg Stadt, Salzburger Bachgesellschaft
Spezial-Kreativ-Kids-Club
Thursday, 24. Juni, 15.00 Uhr
Meeting point: Residenzgalerie, Kunstlabor
Further information as well as other events and children's and youth programs (in German) at:
>> Veranstaltungen & Führungen
Subject to change.