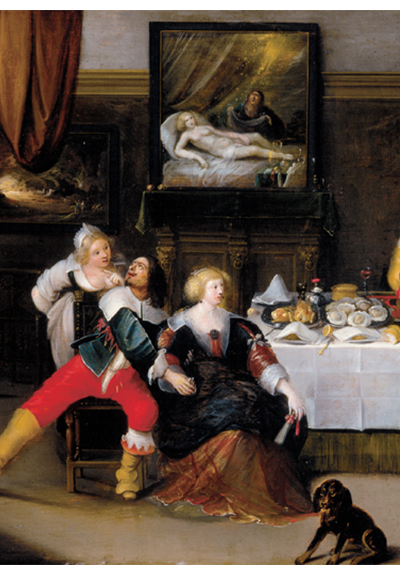 Sensuous pleasures lend colour, enjoyment and glamour to everyday life. Some fifty selected works from the Salzburg Residenzgalerie collection portray amusing diversions and convivial gatherings. Music, dance and gaming were popular entertainments, and – reserved for the nobility – also hunting. Besides the favourite theme of hunting with hounds, there are some choice examples of still lifes with hunting trophies. The presentation is rounded off with highlights from still-life painting, showing richly-decked tables and splendid flower arrangements.
exhibition room 1 | Life – a revel
The five senses – hearing/auditus, sight/visus, touch/tactus, smell/odoratus and taste/gustus – are among the most popular subjects in secular genre painting.
In series depicting the five senses, wine-drinking and smoking represent taste and smell. Smoking tobacco in a clay pipe was a common, inexpensive pleasure, enjoyed in the 17th century northern Netherlands not only in well-to-do society, but also by peasants – as shown in many a tavern scene. In Roman Catholic Europe, consumption of tobacco was prohibited.
French painting showed bathers in the nude; in sunlit scenes, the cool, refreshing water offered moments of sensuous pleasure, arousing desire in the observers of naked bodies.
Pleasure-loving companies in search of entertainment and conviviality would gather in salons, at woodland picnics or at a fair. Passionate encounters were often accompanied by indications of the imminent abyss. The paintings show an interplay of desire and admonition; innocence is found only in a sweetly sleeping child.
exhibition room 2 | A feast for the eyes
Prestigious opulence is the tenor of the baroque still life. Initially an incidental accompaniment within larger compositions, in the course of the 16th century the genre gradually asserted itself as an independent – and popular – subject. Select fruits, costly glass and shining pewter – all ingredients of a refined style of living – were displayed in sumptuous, overflowing abundance. Meticulously rendered objects and reflected light offered a feast for the viewer's eyes. The paintings contained a wealth of more or less encoded content, culminating in the admonition: Remember, life is transitory!
In the still-life painting of the 18th and 19th centuries, the allegorical dimension gradually disappeared from the pictures.
Viennese flower-painting, which originated in the 17th century Dutch flower-piece, enjoyed incomparable success until around 1850.
exhibition room 3 | Happy hunting
Hunt motifs and corresponding scenes from antique mythology in paintings commissioned by the aristocracy reflect their passion for hunting and their desire for entertainment. Hunting was reserved exclusively for the upper echelons of feudal society, whose craving for amusement required lavish diversions.
Thus the so-called chasse à force, or coursing with horses and packs of hounds was extremely popular. To hunt down a single stag – which, days previously, had been encircled by hunters
and servants – anything up to 100 horses and 300 hounds would assemble; the hunt itself often took no more than two or three hours.
The privilege of dealing the death-blow to the completely exhausted animal was reserved for the prince. There was generally no risk involved, since the piqueur would have severed the tendon in its hind leg. The hunt was accompanied by signals on the hunting-horns, which served as communication between the hunters, and sounded at the end in honour of the slain animal.
exhibition room 4 | Contemplation
Contemplation is represented by the painting Old Woman Praying by Rembrandt.
exhibition room 5 | Dance and music
From the aristocracy through the bourgeoisie to the peasantry – all levels of society enjoyed music and dancing.
Apart from martial skills, an aristocrat's training focused on the arts – particularly on dance. At the court of "Roi-Soleil" Louis XIV, professionalisation culminated in 1661 in the founding of the Académie Royale de Danse. Dances served as both entertainment and communication, and above all, as demonstrations of prestige. A ball was an occasion to display courtly splendour.
Every country had its favourite dance forms, and developed its own couple and group dances, where the exchange of partners and the trend towards couples dancing closer offered opportunities for flirtation. Festivities would always include music and dancing, since rhythm and melody encouraged joie de vivre and conviviality. Within the family, domestic music-making was common, with singing and instrumental playing.
As an idle pastime, music was considered by some a foolish pursuit, contrary to a God-fearing way of life.
exhibition room 6 | Gaming
Depictions of card and board games were a popular motif in Dutch genre painting. The paintings had high entertainment value, such games being popular among all levels of society.
Diverting and entertaining as these games might be, they were frowned upon in ecclesiastical circles. The negative consequences, in particular, were a thorn in the flesh of the moralists. On the one hand, games were considered a distraction from the important things in life, such as church and work; on the other, a connection was seen with swearing, stealing, physical violence and squandering money.
Card-playing – particularly popular among the poorer classes – was associated with idleness and quarrelling. In the paintings, the reprehensibility of gaming is further emphasised by the consumption of tobacco and alcohol, by music or scenes of wanton dalliance.