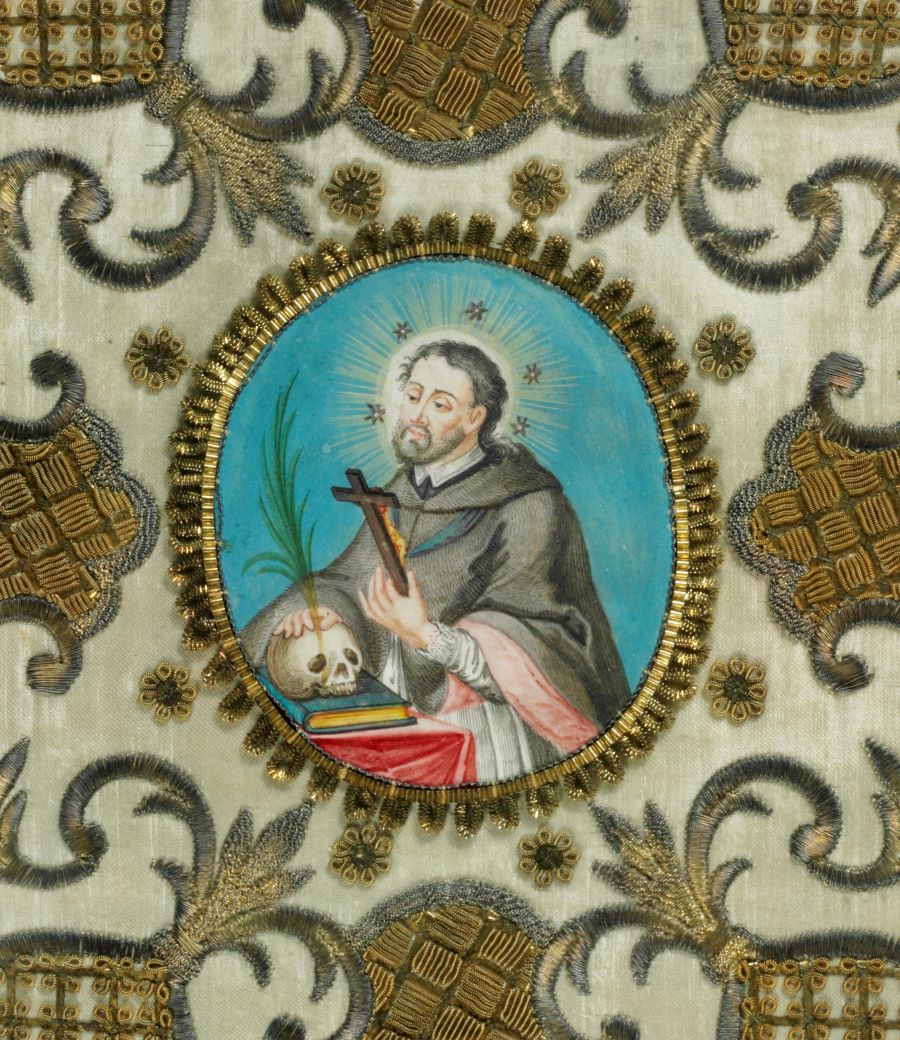 The 300th anniversary of his beatification
A large private collection acquired by the Cathedral Museum in 2017 includes a remarkable set of objects belonging to the John of Nepomuk tradition. It seems natural, then, to mark the anniversary of the Bohemian martyr's beatification by showing a selection of these. Since the originally planned exhibition together with large-scale loans in the North Oratory is not possible in 2021, at least a modest show will be held, interspersed in the permanent exhibition in the South Oratory.
The themes are the martyr's life and the story of his veneration, which surged enormously during the Catholic revival following the Thirty Years' War. Beatified in 1721 and canonised in 1729, John of Nepomuk became a "fashionable" saint in the Baroque age – particularly in Salzburg, where Prince-Archbishops Franz Anton Harrach and Leopold Anton Firmian promoted his worship. In 1697, long before his beatification and canonisation, Johann Michael Rottmayr placed him among the saints in the Holy Trinity Church fresco. Second patron saint of the diocese (after Rupert and Virgil) since 1736, John of Nepomuk is also very much present in public space. Marble statues by sculptor Josef Anton Pfaffinger stand in several places in the town, and up and down the country there are numerous statues on bridges, as well as pictures and figures in churches and chapels.
---
The exhibition must also ask what John of Nepomuk can tell us today. He is, after all, not only protector against floods and water hazards, but also against animosity and malicious gossip. Thus he stands for concerns that are more relevant than ever, considering all the hostilities and the "fake news" abounding in social networks.
A booklet accompanying the exhibition in german (€ 11,90) is available in the museum shop or online.
Extract of the paintings and exhibits
Dates
All dates listed here are offered in German. For a tour in English, please contact the visitor service in the DomQuartier below:
+43 662 80 42 21 05 or office@domquartier.at .
Public Tours (German)

Samstag, 10.30 Uhr
22. Mai, 19. Juni, 23. Oktober, 13. November
Samstag 11.00 Uhr
29. Mai (Museumswochenende)
Mittwoch, 16.30 Uhr
21. Juli, 4. August
Mittwoch, 15.00 Uhr
1. September
Treffpunkt Residenzgalerie
Further information on Cathedral Museum