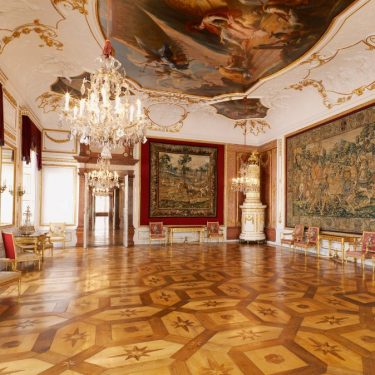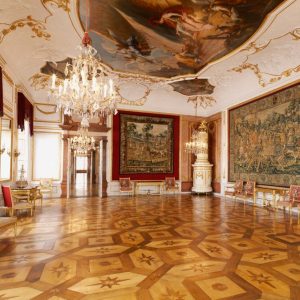 Over the course of centuries, the Residenz Palace in Salzburg served the Prince-Archbishops as their representative seat. Even during the Baroque era, the city palace of the Prince-Archbishops was among the most impressive representational buildings in the German-language region.
Today, the Residenz Palace at the heart of Salzburg's old town is one of its most impressive attractions. The self-guided tour takes the visitor through precious interiors which give testimony to the rulers' instinct for staging their own power.
As the envoys of foreign princes, statesmen and court employees directed their steps through the apartments towards their audiences with the Archbishop, thus today's visitors pass from the Carabinieri Hall with its 600 square metres through the rooms with their increasingly precious décor: the Knights' Hall, the Council Room and Antecamera give way to the sumptuous highlight, the Audience Hall. The private area of the Prince-Archbishops, immediately adjacent, consisted of the Study, Coffer Room, the Bedroom with its private altar, the Beautiful Gallery and other public rooms.
Among the treasures are the classicistic ceramic stoves, Venetian mirrors, ceiling frescoes by Johann Michael Rottmayr, crystal chandeliers made of Bohemian grey glass, high Baroque ceiling stucco with gold leaf, precious clocks and paintings.